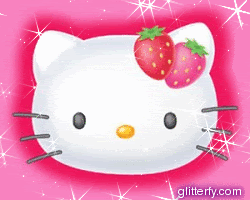 Glitterfy.com - Glitter Graphics
Mina, the previously mentioned little girl, dresses always in prissy pink, with princess pencil cases and glitter kitty tote bag. She's five years old and sweet and precocious and is always somehow bedecked and beribboned.
In class on Friday during lesson, she started humming and then suddenly belted....
WE WILL, WE WILL, ROCK YOU!